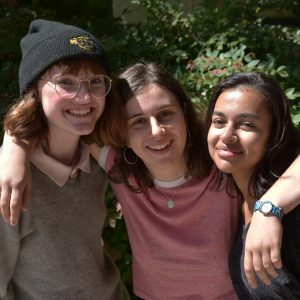 By Gender and Sexuality Alliance
October 11 is National Coming Out Day!! That's this Friday, and probably the day you're reading this, baby.
National Coming Out Day was started in 1988 by a man named Robert Eichberg and a woman named Jean O'Leary.
That October 11 was exactly one year after a historic march on Washington, DC by LGBT protesters. The march was organized to protest inaction on the AIDS epidemic and a Supreme Court case reaffirming the criminality of consensual gay sex between men. Incidentally, Nancy Pelosi joined the march.
Eichberg and O'Leary wanted a day that approached activism with a more positive light on the queer community, as they had noticed that queer activism had mainly been "defensive" reactions to oppressive things.
In 1988, the queer community needed something positive. The very first year, organizations in eighteen states participated, and within two years it had spread to all fifty states, plus seven other countries.
One of the leading ideas was that if everyone in America knew a gay, lesbian, bisexual, or transgender person, then gaining civil rights would be far easier. Thus, private citizens and public figures made a point to massively come out on this day.
Thirty one years later, National Coming Out Day is more of a holiday than it used to be. Plenty of people still pick it as their day to come out, but we also recognize that it's hard for some people to do so.
No one should be forced to come out to an unsupportive or abusive family/community. Rather, we can celebrate those who have been brave enough to proclaim their identity to the world, to their school, to just a few friends, or maybe just to themselves in the mirror.
For those who can't yet do it, we can love them extra, reassure them that one day it'll be easier; they'll move out, find a queer community to nestle into, and finally be totally free with themselves.
What if I just don't WANT to come out? Some people are of the school of thought that, "Hey, heterosexuals never have to come out, so why should I?"
If that's you, actively turning the world into the place that we hope that it will someday be, don't feel like you have to change!
But we're not actually at a place where such equality exists, where people don't subconsciously assume "straight until proven otherwise." Thus, a majority of people should still make a point of coming out, however that may look.
The reasoning of the founders of National Coming Out Day is sound: if everyone knew a queer person closely, queer rights would be more respected. If someone respects a celebrity like Anderson Cooper or Janelle Monáe already, learning that they're queer is more likely to edge them towards supporting this community as a whole.
This week we sold our hand-screen-printed shirts featuring different pride flags to honor the holiday. Proceeds will go towards an LGBT charity of the GSA's choosing.
If you want to buy one, we still have some! Email us at [email protected]