On January 26 and 27, Berkeley High School students, dressed in traditional clothing representing their backgrounds, assembled around the campus green to celebrate Multicultural Week. The event featured booths run by BHS's student culture clubs as well as performances by the African Diaspora Dance and Mandarin classes.
Multicultural Week was organized by BHS Commissioner of Multicultural Affairs Jessica Hipona, with the purpose of bringing BHS's many communities together in an open celebration of their diversity and unity.
"I just really wanted to see all these different cultures come together," Hipona said. "Although I really love and I really appreciate the opportunity to be able to be a sort of spokesperson, I think it's really important that the people from the actual cultures can represent, too."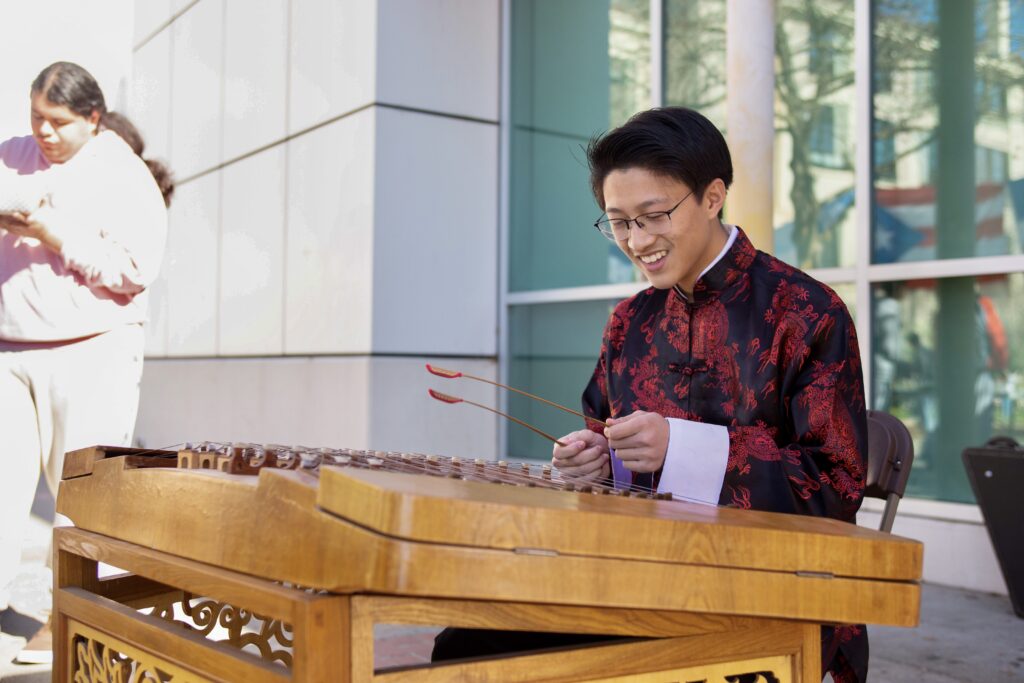 The Advanced Placement (AP) Mandarin class performed a choreographed dance routine, followed by a performance by the African Diaspora Dance class, and a yangqin performance by BHS senior Nathan Nguyen. Hipona said that she enjoyed the performances and would like to host more in the future.
Evelyn Chou, a BHS junior, performed with her AP Mandarin class. The show consisted of two movements performed underneath a canopy tent in front of the E Building. "We did a fan dance at first," Chou said. "Then we did a more active dance that was choreographed by one of my classmates." The performances themselves were inspired by practices from Chinese culture. "Fans are used in Chinese dance sometimes, and we were dancing to Chinese music, so (we were) kind of showing that part of our culture," Chou said.
Students were also able to visit a number of stands hosted by the Asian Culture & Expression Club, Asian Pacific Islander Club, Black Student Union, Habesha Student Union, Latines Unidos, and Native Student Union.
Some clubs, like the Native Student Union, sold art, and others, like the Asian Culture & Expression Club, gave out food.
"The APIC booth had places where people could write down their experiences," Chou said. "How they connect with their culture, or what being a person of color means at Berkeley High."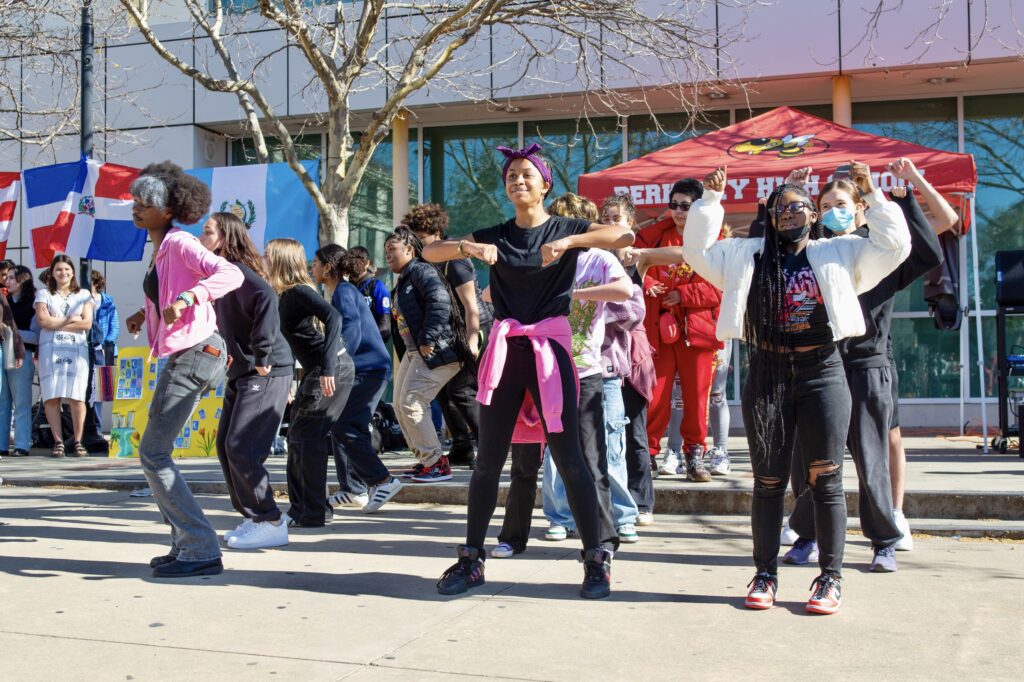 "It felt really nice having everybody have access to our club and just being able to learn about our clubs and then also about the cultures that come with our clubs," said BHS senior Muskana Cyrus, co-president of the Black Student Union.
"It was really cool to see each stand being something different," added BHS senior Winta Tesfaldet, co-president of both the Black Student Union and Habesha Student Union. "It's really important to highlight the different cultures and heritages of our school."
Their booths featured posters about their clubs, Ethiopian flags, traditional bread, and stickers of iconic Black celebrities.
"We just wanted to represent (ourselves) through acknowledging certain things that we would do," said Ivan Cuatlatl Tello, co-president of Latines Unidos. Their club's stand was ornamented by hanging flags, representing various Latine countries, and lotería boards. Cuatlatl Tello and the other club leaders said that Multicultural Week gave their classmates a chance to experience their cultures.
"One element of culture that people are experiencing is food," Cuatlatl Tello said. "Another thing they get to get out of the booths is the history behind whatever they're selling or showing you."
Multicultural Week also facilitated awareness for the clubs in attendance as well. "We did really well with people joining our clubs, and it was just really fun overall," Tesfaldet said.
Several students agreed that bigger was better for future multicultural week events. "I think a great way to improve it is to find out how to keep people engaged with it, and how we can (get) more people to come," Cuatlatl Tello,
"We want to see it become more," Cyrus said. "More collaborations, more activities, more interactivity."
Hipona looks forward to a more extensive and interactive Multicultural Week next year, but for now she is making plans for events "featuring specific cultures and bringing awareness to them."
"I am honored to be a privileged part of the minority," Hipona said. "Not everybody gets to represent in this way, so I'm really happy that I got to plan (Multicultural Week), and I'm thankful to everybody that participated in it."